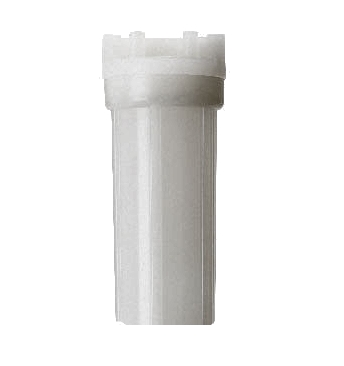 FH1201
Pentek Ametek Standard 12 inch Housing
3/4 inch In and Out - 12 Inch Length, Natural Polypropylene for 10" Or 12" 2-222 O-ring Filter.
Retail Price : $125.23
Our Low Price : $89.45


---
This Pentek brand filter formally Ametek is the standard housing used in 90% of all applications. This is the housings that the others copy. This housing is designed for superior strength and has been used in millions of sucessfull installations. Includes pressure relief and mounting bracket cap.

Filter housing brackets are sold separately.

APS Ultra Scientific Brand Filters for this housing

Also see Pentek Brand Filter Cartridges for this housing
Pentek® All Natural Filter Housings help maintain high standards of purity and performance required in critical contamination control systems and processes. These housings can also be used for a variety of other applications where purity, quality, filtration and economy are required. All Natural Filter Housings have 3/4" NPT inlet and outlet threads.
SPECIFICATIONS:
Sump Length: 12"
Inlet/Outlet: 3/4" NPT
Housing: All natural Polypropylene
Cap: All natural polypropylene
O-Ring: Viton®
Cap: #241 Viton
Plug O-Ring: #112 Viton
Maximum Temperature: 40° to 100°F 4.4° to 37.8°C
Maximum Pressure: 100 psi 6.9 bar
Pressure Loss Through Housing: 1 psi @ 10 gpm 0.07 bar @ 38 Lpm
FEATURES:
An economical solution to fluoro-polymer, stainless steel or PTFE housings
Pure polypropylene components – no fillers, colorants, plasticizers, or lubricants
Ultra-smooth contact surfaces prevent bacterial adhesion and build-up
Resists DI water and other inorganic solutions
Resists stress cracking
Viton® O-rings provide dependable sealing

Note: Housing requires mounting bracket for wall installation.
---
Related Categories
See All :